Today the thought of having a game that looks and feels like those old stop-motion christmas specials might be kind of interesting. I think I'm going to try and come up with some maya renders of what the shaders / world might look like. This is what I've got today. It's mostly randomly scattered triangles in an otherwise plain-old low poly world, like any game from the late 90s.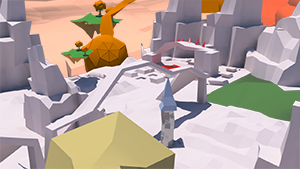 If you thought this post was useful, I'd like to ask you to share with your friends. It only takes a second and it helps spread some hard-learned lessons. Here, I'll make it super easy.. Just click one of these buttons.
---
Making Apps That Sell
An upcoming book detailing everything you need to know to produce marketable apps. Available for pre-order today at a
50% discount
.
Subscribe via e-mail.
Subscribe via RSS